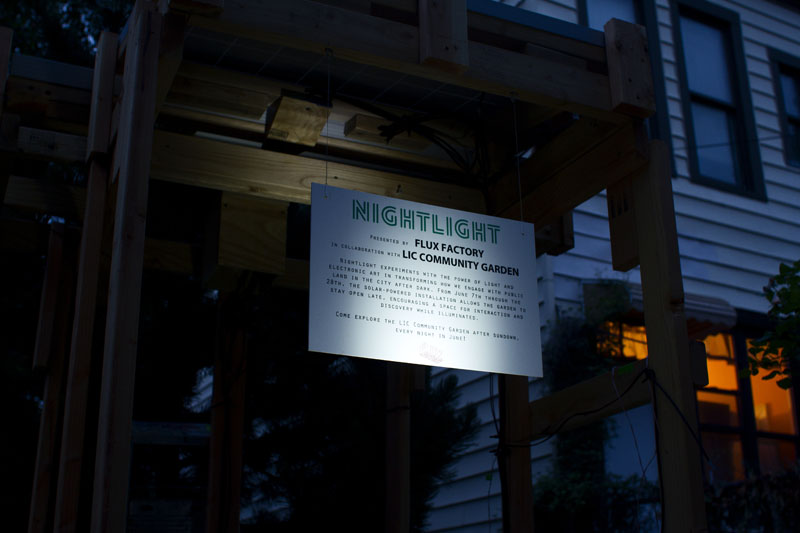 Nightlight (2014)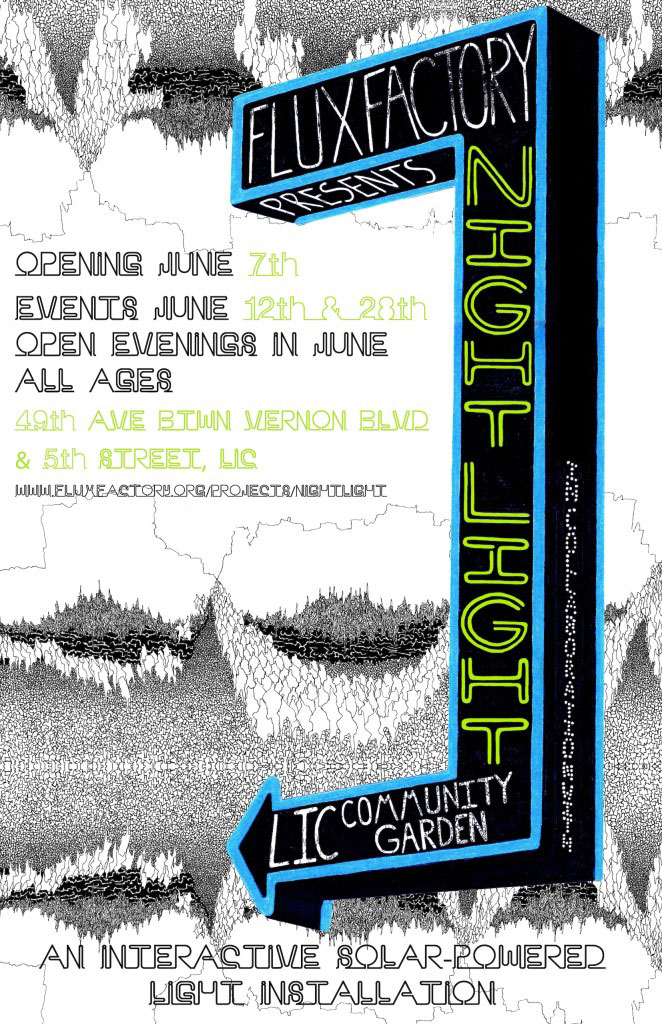 Curated by Alex Nathanson and Carina Kaufman
Flux Factory, in partnership with the Long Island City Community Garden, is excited to present Nightlight, an interactive light-based outdoor installation that investigates public and private land use after dark.
Nightlight opens a city-owned public space beyond regular hours, creating a location for interaction, discovery, and communication that otherwise wouldn't exist. The installation experiments with the power of light in creating a safe space for passersby to happen upon and explore.
The installation spans the entire garden, and is powered exclusively by solar energy. The participants, composed of artists, programmers, builders, community organizers, and hackers, worked collaboratively to produce this site-specific work. Nightlight is curated by Carina Kaufman and Alex Nathanson. Installation by Merche Blasco, Reid Bingham, Eozin Che, Mark Christie, Jason Eppink, Ting Feng, Regina Hong, Jung In Jung, Sean McIntyre, Will Owen, Dan Phiffer, Julius Schmiedel, and Morgan Street.
Graphic design for promotional materials by Danae Lagoy and Alex Nathanson. Additional production support from Shona Masarin, Aliya Bonar, Liliana Gutierrez, and Mark Cristie.
Please note: The show was originally scheduled for one month. However, due to popular demand and an invitation from the community garden, Nightlight was extended for an additional month.
Performance documentation of Merche Blasco's participatory performance.
Video by RAVA Films. Participants interacted with the performance by wandering around the garden with flashlights.
Selected Press for Nightlight:
"Solar-Powered Art Installation Lights Up Community Garden After Dark ," DNAinfo (http://www.dnainfo.com/new-york/20140617/long-island-city/solar-powered-art-installation-lights-up-community-garden-after-dark)
"Nightlight, Critics Pick," Time Out NY (http://www.timeout.com/newyork/things-to-do/nightlight)
"Flux Factory's new exhibit brightens the evening," Times Ledger (http://www.timesledger.com/stories/2014/25/flux_2014_06_20_q.html)
"Nightlight presented by Flux Factory and the LIC Community Garden," Artvironmentalist (http://artvironmentalist.wordpress.com/2014/06/11/nightlight-presented-by-flux-factory-and-the-lic-community-garden/)
"Flux Factory's Nightlight Installation Sounds Brilliant (Literally)!," We Heart LIC (http://weheartlic.com/2014/06/flux-factorys-nightlight-installation-sounds-brilliant-literally/)
"Flux Factory's Garden Party Nightlight," Art F City (http://artfcity.com/2014/05/30/preview-flux-factorys-garden-party-nightlight/)
"Flux Factory bringing solar powered light installations to LIC," Superchief